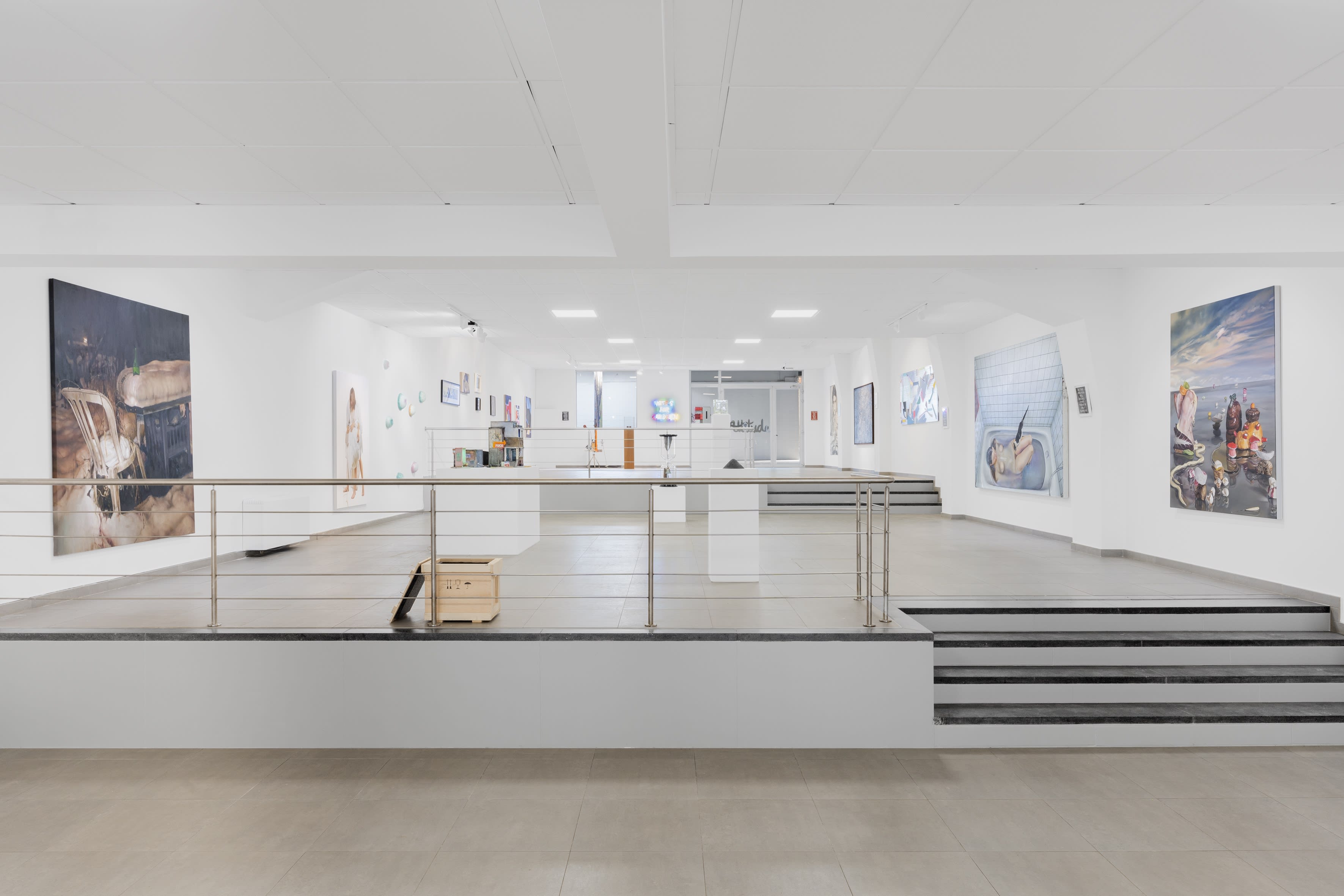 NEW PROJECT @ "207 VDK"
rue Vanderkindere str. 207
1180 Brussels
COME WHAT MAY - REBOOTED
Preview Thursday 9 September: 12.00 - 21.00
Open Friday 10, Saturday 11 & Sunday 12 Sept: 11.00 -19.00
OPEN BY APPOINTMENT ONLY
UNTIL 31 DECEMBER 2021
Featuring
AES+F, Carlos Aires, Hugo Alonso, Elodie Antoine, Katia Bourdarel,
Daniele Buetti, Tom Dale, Delphine de Saxe-Cobourg, Jeroen Frateur,
Till Freiwald, Lara Gasparotto*, Tanya Goel*, Gudrun Kampl*,
David Kramer, Eckart Hahn, HEHE, John Isaacs, Michael Johansson,
Félix Luque Sánchez*, Houston Maludi, Filip Markiewicz,
Eugenio Merino, David Nicholson, Lamarche-Ovize, Léopold Rabus,
Till Rabus, Terry Rodgers, Danny Rolph, Tracey Snelling, Pierrick Sorin,
Mark Titchner, Gavin Turk, Eric Van Hove*, Jason Bard Yarmosky
*guest artists
in collaboration with / en collaboration avec / samenwerking met Stieglitz19
For the inauguration of its new space, Aeroplastics is offering a major exhibition whose title echoes the uncertainty in which our contemporary world is plunged: Come What May. More than thirty artists have been invited to participate, each offering a personal and original reflection on the challenges that humanity must face today, whether they are ecological, social, human or economic in nature. However, it is not a question of producing a manifesto or a plea: the event is above all an opportunity to reaffirm the aesthetic line followed by Aeroplastics since its beginnings, characterised by a taste for audacity and experimentation, diversity, the hidden meaning of images and words, but also humour and the second degree. The paintings, sculptures, videos, drawings, photos and installations gathered here do not claim to provide answers to the questions raised by the present or future chaos, but invite an open-mindedness that, it is not forbidden to dream, could help to change the course of things.
P-Y Desaive
Pour l'inauguration de son nouvel espace, Aeroplastics propose une grande exposition dont le titre fait écho à l'incertitude dans laquelle est plongé notre monde contemporain : Come What May. Plus de trente artistes ont été conviés, chacun offrant une réflexion personnelle et originale sur les défis que l'humanité est amenée à relever dès aujourd'hui, qu'ils soient de nature écologique, sociale, humaine ou économique. Pour autant, il ne s'agit pas de produire un manifeste, ni un plaidoyer : l'événement est avant tout une occasion de réaffirmer la ligne esthétique suivie par Aeroplastics depuis ses débuts, caractérisée par un goût pour l'audace et l'expérimentation, la diversité, le sens caché des images et des mots, mais aussi l'humour et le second degré. Les peintures, sculptures, vidéos, dessins, photos ou installations rassemblées ici ne prétendent pas fournir de réponse aux interrogations nées du chaos présent ou à venir, mais invitent à une ouverture d'esprit qui, il n'est pas interdit de rêver, pourrait aider à infléchir le cours des choses.
P-Y Desaive
Ter gelegenheid van de opening van zijn nieuwe ruimte biedt Aeroplastics een grote tentoonstelling aan waarvan de titel de onzekerheid weerspiegelt waarin onze hedendaagse wereld is ondergedompeld: "Come What May ". Meer dan dertig kunstenaars zijn uitgenodigd om deel te nemen, elk met een persoonlijke en originele reflectie op de uitdagingen waar de mensheid vandaag voor staat, of die nu ecologisch, sociaal, menselijk of economisch van aard zijn. Het gaat er echter niet om een manifest of een pleidooi op te stellen: het evenement is vooral een gelegenheid om de esthetische lijn die Aeroplastics sinds zijn ontstaan volgt, opnieuw te bevestigen; deze lijn wordt gekenmerkt door een voorliefde voor durf en experiment, diversiteit, de verborgen betekenis van beelden en woorden, maar ook humor en de tweede graad. De hier bijeengebrachte schilderijen, beeldhouwwerken, video's, tekeningen, foto's en installaties pretenderen niet antwoorden te geven op de vragen die de huidige of toekomstige chaos oproept, maar nodigen uit tot een open geest die, het is niet verboden te dromen, zou kunnen helpen om de loop der dingen te veranderen.
P-Y Desaive