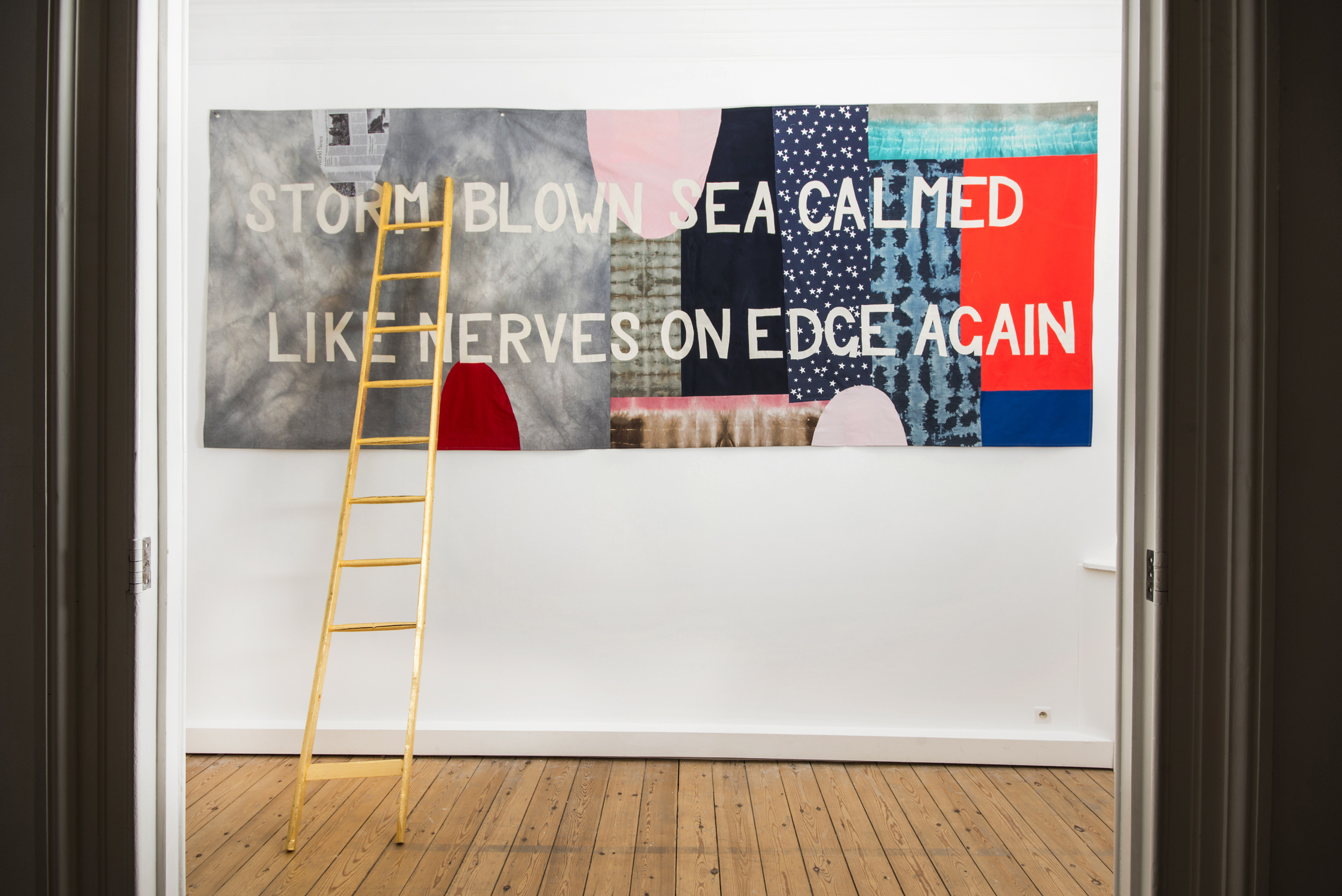 John Isaacs 'Only Words'
9 September - 15 October 2016
Aeroplastics @ Rue Blanche, Brussels
In keeping with the polymorphic character of John Isaacs' work, "Only Words" is a title that invites multiple readings. This paradox is one of passkeys into the artist's universe, and also applies to our global society of which he is a diligent observer: as he underscores, words seem powerless to cure the madness that's gripped the modern world while, equally, they can act as weapons of mass destruction in the hands of fanatics.
John Isaacs likes to play with old references, archaeological even, to better examine both the present and the future. Several works comment upon our desire to manage this present, and our (in)capacity to do so. The Child's Life Jacket, carved from Carrara marble, evokes in the form of a monument or mausoleum, the thousands of refugees trying to reach European shores while oftentimes losing their own lives and those of family members in the process.
"The Cyclical Development of Stasis" follows the same train of thought: this hand - like that of an ancient monumental statue, with its pointing, authoritarian finger - is presented alone within a glass display box, and isolated from its historical and symbolic context.
Many of these pieces, owing to their title or form, deal with the relationships between individuals in a society that, though permanently 'connected', generates solitude more than ever before.
The uniqueness of John Isaacs' work within the panorama of contemporary art chiefly, but not exclusively, resides in this artist's capacity to blur borders: each work is a fragment of a gigantic visual puzzle, at once poetical and political.
P-Y Desaive (excerpts)
***
Trained as an evolutionary biologist, British artist John Isaacs (UK-1968) gained notoriety for his lifesize, methodologically dissected animal and human bodies sculptures made of wax (A necessary change of heart - 1999, Everyone's talking about Jesus - 2005, ...) .
Although he cares for the anonymity, diversity and need to remove boundaries in his working practice, he developped an acute consciousness of our environment and ways of living hence creating the possibility of intuitively asking "What is necessary as opposed to what is simply decoration?".
His work consists of many different media approaches from drawing (a.o.ink and pencil), painting (mainly acrylic), photography (a.o. What is it that there is something and nothing - 2006), collages to predominantly full-size sculptures (a.o. If not now then when - 2010) and mixed media installations. Recently, he started to explore Carrara statuary marble (The Architecture of empathy - 2014) opening renewed expressions of spatial relationships between a form and its surroundings.
His work is exhibited extensively in esteemed public and private European institutions such as Tate Britain & Liverpool, The Serpentine, Saatchi and Hayward galleries in London , ME collectors room in Berlin, Les Abattoirs in Toulouse, La Maison Rouge in Paris as well as in various venues in America and Asia. It has been collected by some of the most cutting-edge and renown private collections worldwide (Olbricht , Murderme/Damien Hirst, De Galbert, Speyer, Berri , Saatchi, Kim/Arario, etc...).