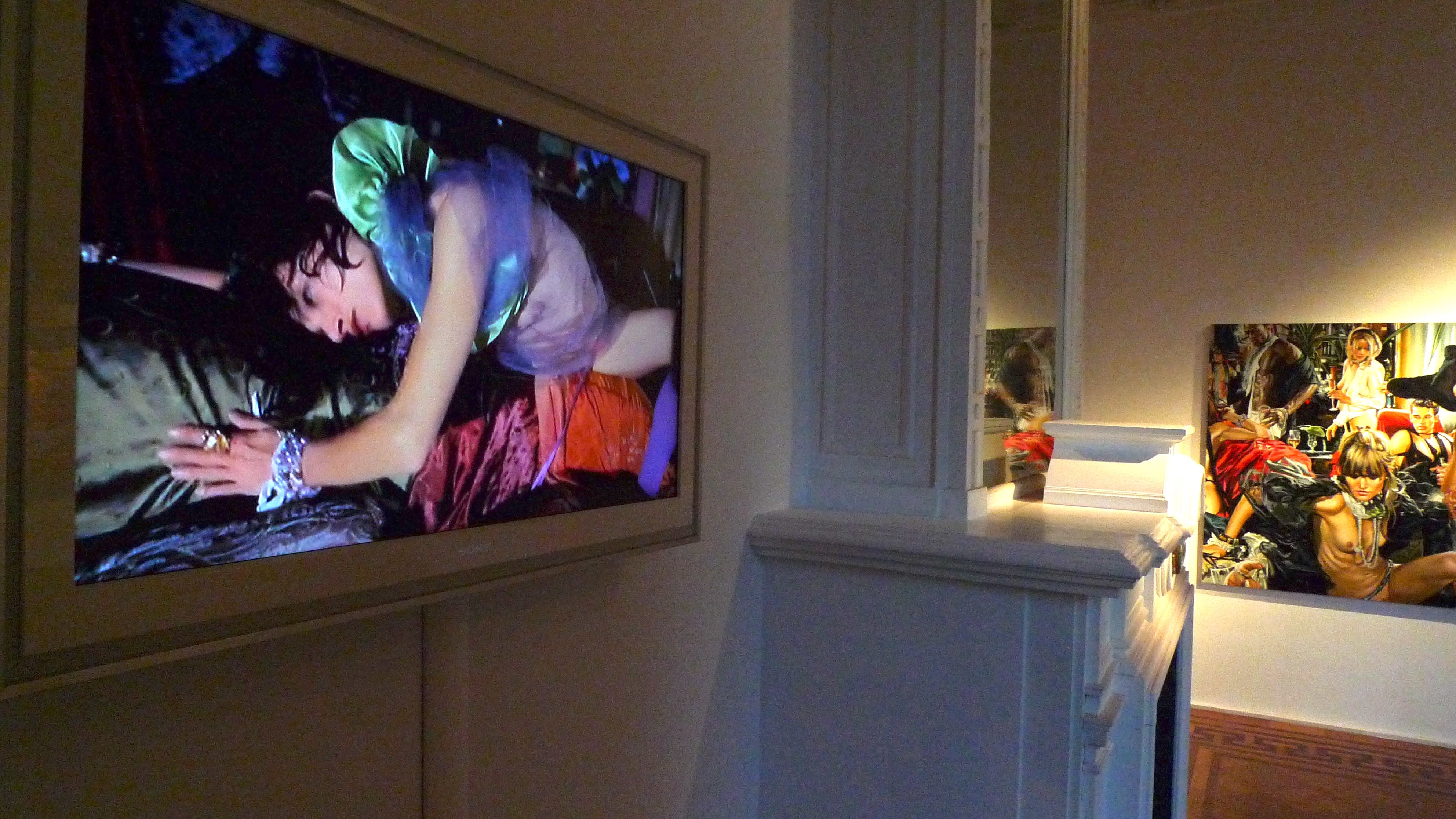 Terry Rodgers 'Radical Continuity'
15 January - 27 February 2010
Aeroplastics @ Rue Blanche Str., Brussels
Aeroplastics Contemporary presents a monograph exhibition from American artist Terry Rodgers (b. 1947). Little known in Belgium, the artist already enjoys international renown by grace of his large-format hyperrealistic tableaux, in which he sets the scene with young men and women of a perfect form – at least with respect to the current criteria of fashion and advertising. Half-clothed, adopting lascivious poses in décors overloaded with luxuriance, sporting jewels and accessories, champagne glass in hand, these protagonists evoke the decadence of the Empire and the carefree life of a certain gilded youth. But much more than a world sorely lacking points of reference, it is panting itself that the oeuvre of Terry Rodgers examines, and beyond that, our way of representing reality to ourselves.

"We live in the amniotic fluid of our little worlds, content in the company of our prejudices." In this one sentence, Terry Rodgers ably sums up the philosophy underlying his work, and the rapport that he wishes to weave with the viewer. At first sight, it is tempting to describe these compositions as evocations of orgiastic after-hours parties, midway between voyeurism and moralising reprobation. But closer examination takes us beyond this too facile reading, to look at the relationships – or rather, the absence of relationships – between the figures portrayed. If they seem at times to touch, they nonetheless appear incapable of establishing any modicum of communication, nor have perhaps the desire to do so. Insulated in their bubble, the actors naturalness may be seen as artificial , underlining the stereotypes that we project upon them. "My paintings describe imaginary worlds created out of offers conveyed by the media – luxury, wealth, as well as a self-validating version of beauty and desire, and all of this shot through with a dose of reality. Just how difficult is it for the participants of such scenes to step out of themselves and connect with each other?" In the end, the veritable subject of these compositions is the individual's aloneness in the crowd, and the way that visual codes proper to painting can re-transcribe this experience. How to translate the contrast between glamour and vulnerability, between a chimerical world and the reality of experience?

For Terry Rodgers, photography is of essential value. "I've taken thousands of pictures and I'll take thousands more, to try to discover the expressions and gestures that, I believe, reveal rapports between the internal and external confusion of the world in which we live." These models are for the most part anonymous persons, just crossed on the street, whom the artist invites to come pose in his studio. He then assembles these different scenes in vast compositions, renewing in this way the technique of the Old Masters. As for his choice of using very large canvasses, he evokes the beginnings of Realism, like when Courbet created an uproar by representing an anonymous burial in a format up-to-then reserved for scenes heroic, mythological, or religious. But if the paintings are founded on a meticulous technique, the images attempt, on the contrary, to capture the energy of the moment in just a few brushstrokes. The poses are never chosen accidentally, and reflect what the artist describes as conventions used to characterize individuals and social types.

The confrontation between paintings and black-and-white photographs, allows Terry Rodgers to make explicit that which underlies his artistic aims. In these scenes, stereotypified beauty sometimes makes way for the most disturbing ugliness, with individuals masked and deformed. "Certain figures in these images correspond to Western canons of beauty, while others defy it. You can perceive, through these images, that the soul does not reside in the outer physical envelope." Video also plays a central role in the elaboration of paintings, and quotes a media that has become the ultimate synonym for confusion between fiction and reality, ever more so since the invention of reality television. The exhibition also presents illuminated caissons, melding diverse ways of representing the real; like the world that surrounds us, and that we erroneously perceive as a uniform whole, is rather composed of a multitude of fragments. "We tend to forget that everything we see, or hear, is invented. Our experience of life is like a multidimensional game whose pieces are in constant motion." This game with the real, and with the social codes that govern our existence, are at play throughout Terry Rodgers' entire oeuvre.