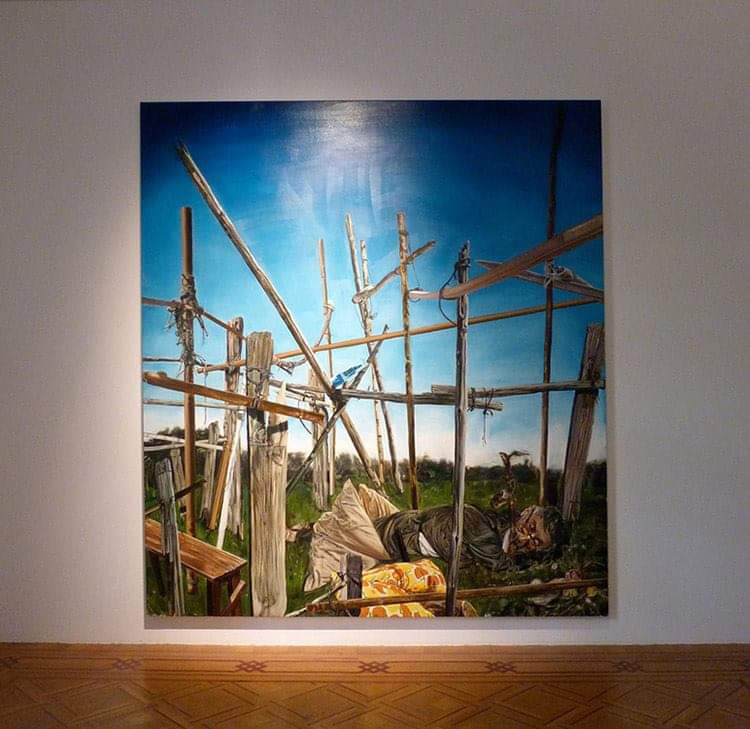 Léopold RABUS & guests 'Tiré d'une histoire vraie' / 'Based on a true story'
8 September - 27 October 2012
Aeroplastics @ Rue Blanche Str., Brussels


The first individual exhibition of Léopold Rabus at the Aeroplastics gallery is cast under the double spell of proximity and light-and-shade. The interest of the artist for his immediate environment, the evocation of the countryside on the edges Lake Neufchâtel and the small town of Cortaillod where he resides, the choice of portraying those closest to him – these characteristic traits are already present in his earlier work. But his hallucinated visions of deformed figures, at once grotesque and unsettling, have evolved towards less tormented compositions, though still imprinted with the same strangeness. This evolution has been accompanied by new work very much concerned with light: raw and uniform lighting has made way for plays of shadow and more nuanced tones. This change had already been signalled in works from 2009 like Personnages derrière une serre (Figures Behind a Greenhouse) or Grand-mère plantant un clou (Grandmother Hammering a Nail), and expresses itself fully today. Léopold Rabus also continues working in very large formats, something that often leads him to divide the composition into two canvases placed side-by-side (the diptych format often had as purpose to punctuate the narrative; here it serves to unify it). Le colmatage d'un seuil (Plugging a Threshold), from 2011, the painting that first greets visitors to the exhibition, itself assembles all of these elements. The subject is directly linked to the pastoral life (the repair of a small dyke at the river's edge), and the protagonists are acquaintances of the artist. The dramatic light confers this banal scene with a quasi-Biblical air, a process directly inspired by Caravaggio. This homage to the master of chiaroscuro couples with another reference, perhaps unwittingly, to Gustave Courbet: the father of Realism created a scandal by using for his Enterrement à Ornans (A Burial at Ornans) the giant scale usually reserved for the "noble" genre of History painting…
The matter of cemeteries is also broached in the 2012 work Dépôt de gerbe (Wreath Laying), a painting that brings two distinct scenes together: farm buildings and grain silo, and an elderly woman placing flowers at a tombsite. This last image served as point of departure for the painter (future restorers will perhaps discover, under the pictorial layer, the representation of a cemetery in the Swiss countryside), who then transposes this to his familiar environs. The result is not a simple addition, the protagonist keeping an autonomous form. The term "fusion" is perhaps that which best describes this method, and is something we again encounter in Troupeau de vaches (Cow Herd) – a priori a simple rural scene, but nonetheless resists submitting to any too-rapid reading. The patch of orange-red that attracts one's attention is described by the artist as the ear of a herdsman close to a fire, and so one understands that two worlds are in permanent co-existence in the painting of Léopold Rabus, like in a waking dream. As for L'homme plantant une arbre (Man Planting a Tree) from 2011, the only truly diurnal composition, it is dominated by a strange, seemingly illogical construction of "branches", but which trace upon the sky blue a network of funerary crosses no doubt in reference to the figure recumbent on the ground.
The 2012 work, Moineaux se disputant du pain dans un poulailler (Sparrows Fighting over Bread in a Chicken Coop) adopts the monumental format of Colmatage d'un seuil. Aside from being work of a similar nature on Light, it illustrates the quite particular way that Léopold Rabus envisions the rendering of movement: the birds seem suspended in both time and space, as though it has to do with the sequential decomposition of the flight of a single sparrow. The painter introduces a shift of the same sort, and extremely subtly so, in the portraits of his "birds of cage and aviary" (the title of the work from which they are drawn – one may ask oneself, along with the artist, what distinguishes the one from the other). It is only the attentive observer who will note the presence of a double-pupil in the eye of a parrot or a parakeet, in the manner of a photograph of a bird in motion suffering from a too-short pause. The painted works of Léopold Rabus are never really as they seem.
- PY Desaive
The show w`as accompanied by a parallel exhibition (ground and second floor) curated by artist Leopold Rabus himself.
The group show featured works by:
PAT ANDREA, MATHIEU BOISADAN, FABIAN BOSCHUNG, BARBARA CARDONE, FRANCISCO DA MATA, ALAIN DELLA NEGRA & KAORI KINOSHITA, PIERRE GATTONI, FRANÇOIS JAQUES, JEAN-MICHEL JAQUET, KOSTA KULUNDZIC, SARA LE ROY, RENAUD LODA, MINGJUN LUO, SIMON PASIEKA, STÉPHANE PENCREAC'H, NAZANIN POUYANDEH, DENIS SCHNEIDER, BENJAMIN TAILLARD, JEAN-THOMAS VANNOTTI, MARKO VELK, SÉBASTIEN VERDON, VUK VIDOR.