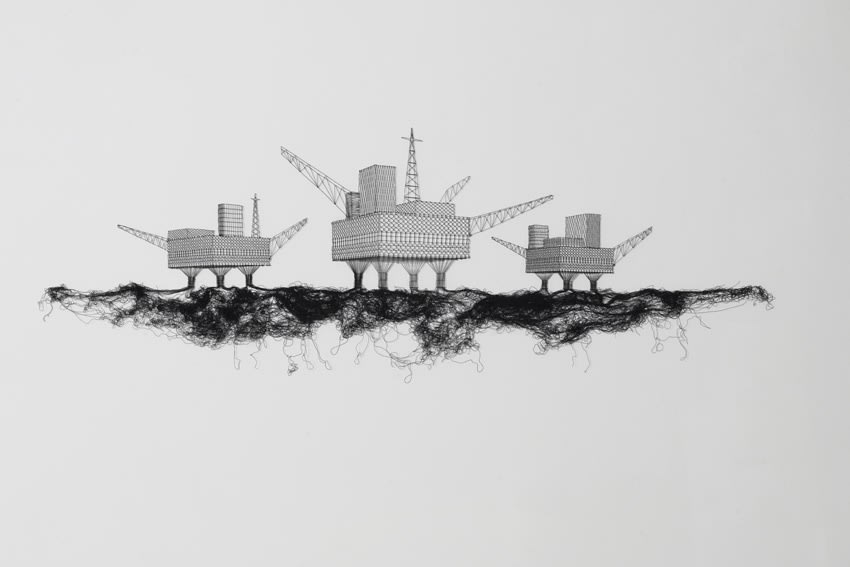 Elodie Antoine 'Deliquescence'
30 January - 14 March 2015
Aeroplastics @ Rue Blanche Str., Brussels
Elodie Antoine's exhibition at Aeroplastics, is first of all the meeting between the space and her works. She imperceptively transforms this enormous house – as witnessed by these tentacles in felt that extend upwards from the bottom of the cellar and push us towards the upper floors… chairs animated with bacterial life, a piece of furniture with a pierced pile of bath towels, flaccid combs, hair brushes (in the most literal sense!), with others from which the bristles inexorably spring forth, tubes of lipstick that turn into forests… So many elements drawn from everyday life or linked to a femininity transfigured by the artist, quite naturally assume their respective place within the mansion's different rooms.
Assembled in a central space are sculptures shown for the first time, and this constitutes the heart of the exhibition as much from a visual as from a metaphorical point of view. These anthropo-morphic forms of braided and sewn hemp, draped over a store-dummy's tripod or miming a sitting position, are at once intriguing and disquieting: the long blond tresses topped by a diadem, midway between a Disney-princess from the Rapunzel era and the burqa. This play of attraction and repulsion is a constant in the work of Elodie Antoine: as 'soft' as they are, her emblematic forms in felt preserve the trace of the sharpened blade that sliced them, that revealed their entrails. Hemp is a new material for the artist. She chose it precisely to create a contrast between the stereotypical image of softness associated with long blond hair, and a coarse texture. The status of these objects is intentionally am-biguous: we find them enumerated in different shapes, affixed to the house's walls like trophies.
The other particular feature of this exhibition is the importance accorded to the evocation of childhood, sometimes through painful biographical elements, like this embroidered dance-tutu figuring an early appendicitis. The childhood game par excellence, glass marbles, here are much abused, melted-down, cut-out. Chewed pieces of chewing-gum become precious objects, jewels even. Set in a corner, a pram is invaded by weird shapes, charming or menacing depending on one's outlook. But the strangeness also comes via an inversion of proportion, like these gigantic milk teeth made using the artist's material-of-choice.
The laced pieces made from black thread fit perfectly in this ensemble, adorning the walls like the tableaux one might find in a comfortable mansion of this sort. They share a common theme, relat-ed to industrialization and its pollution that accrues to the felt balls in a material akin to a layer of dried oil.
Without being a retrospective, the exhibition does as well present some older works, and per-mits us to appreciate Elodie Antoine's artistic course in all its originality and complexity. Above all, it testifies to the constant research undertaken by the artist, starting from materials like thread, fabric and felt, and the manner by which she progressively enlarges her aesthetic and iconographic reper-toire. The 'déliquescence' (i.e. decay) designates a process of degradation through transformation, but it in itself does not summarize the work of Elodie Antoine. Indeed, each transformation brings with it a new symbolism, a form of poetry tinged with melancholy, with an anxious disquiet. Like a cup-board with door just ajar, and within which might lay a body long forgotten…
PY Desaive