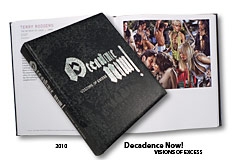 Decadence Now! Visions of Excess.
Otto M Urban.
Arbor Vitae Publishing in collaboration
with Pro Arte Society and with the support of the
Czech Ministry of Culture, to accompany the exhibition at
Galerie Rudolfinum (Prague, Czech Republic).
2010/2011.
ISBN:978-80-87164-60-0

Kunstmuseum Bern/Zentrum Paul Klee (Bern, Switzerland)
"Lust and Vice – The 7 Deadly Sins from Durer to Nauman".
Hatje Cantz. 2010/2011.
ISBN:978-3-7757-2647-4

Kunsthalle Krems (The Olbricht Collection) (Krems, Austria)
"Lust for Life & Dance of Death".
Wolfgang Schoppmann, Hans-Peter Wipplinger. 2010.
ISBN:978-3-901261-46-6
3rd Bienal de Valencia.
Agua sin ti no soy
(Water without you I am not) (Spain). 2005.
ISBN:888-158-5707 | ISBN-13:97-888-158-5700

Art on the Front Page (Greece).
Athens Voice. 2009.
ISBN: 84-482-4134-7 | ISBN: 88-8158-570-7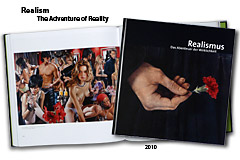 Das Abenteuer der Wirklichkeit
(Realism – The Adventure of Reality).
Kunsthalle Emden, Kunstahalle der Hypo-Kulturstiftung (Munchen),
Kunsthal Rotterdam. 2010.
ISBN:978-3-7774-2421-7
Dekeukeleire, Jeannette. Ruhe, Harry.
Hidden Delights—Lingerie in the Arts. (The Netherlands)
Art Kitchen Galerie, Galerie A. Johannes Verhulststraat. 2009.
ISBN: 978-90-812458-2-1
Firstenberg, Lauri. SupeREAL (Italy).
Marella Arte Contemporanea. 2003.
Firth, Darren. Two Faced (United Kingdom).
Systems Design Limited. 2007.
ISBN-13: 978-988-98992-5-7 | ISBN-10: 988-98992-5-6
Geerlinks, Margi. van der Have, Adriaan.
The Unforgettable Fire 25 Years Torch Gallery.
(The Netherlands) Art Unlimited. 2009.
ISBN: 978-90-8699-059-8
Karcher, Eva.
Terry Rodgers—Dimensions of Ambiguity.
TORCH Books. 2009.
ISBN: 978-90-73920-26-2
Kinghorn, George.
Skin: Contemporary Views of the Body (US).
Museum of Contemporary
Art Jacksonville. 2003.
ISBN: 0-9740580-0-9
Nieuw Realisme.
159 Werken uit de Meest Besproken Kunstcollectie
van Nederland (Works from the Most Talked about
Art Collection in the Netherlands). 2010.
ISBN-978-90-89101-82-2
Reyes, Alina. Somzé, Catherine.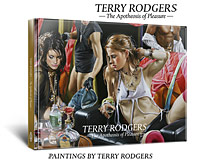 Terry Rodgers—The Apotheosis of Pleasure.
TORCH Books. 2006.
ISBN-13: 978-90-73920-23-1 | ISBN-10: 90-73920-23-X
Rockers Island – Olbricht Collection.
Museum Folkwang. 2007.
ISBN-978-3-86521-471-3
Somzé, Catherine.
TORCH Books. 2009.
ISBN: 978-90-73920-25-5
Tullman, Howard. Creative Imaginings: The
Howard A. and Judith Tullman Collection (US).
The Mobile Museum of Art. 2006.
ISBN: 1-893174-09-3
Wei, Lilly. The Good Life.
Fay Gold Gallery (US). 2002.
Zimmerman, Jim. Vectors of Desire:
Terry Rodgers' Vision of the American Millennial Moment.
iUniverse/Standing Watch Productions. 2004.
ISBN: 0-595-32884-9
Zuruck zur Figur, Malerei der Gegenwart (Back
to the Figure, Painting of the Present).
Kunstahalle der Hypo-Kulturstiftung (Munchen),
Museum Franz Gertsch (Burgdorf),
Kunsthal Rotterdam. 2006-2007.
ISBN: 3-7913-6079-5